Co-ordinator : Lynette Harris
Young Arts now has a close connection with Nottingham Trent University. As you will be aware, the University has had an uncertain year and we have suspended our relationship until circumstances are more normal.
We have been in contact with the Nottingham Trent University but the outcome at the moment is uncertain.
---
Nottingham Trent University Bursary
Last year, we embarked on a new Young Arts initiative. We set up a bursary for a third year Nottingham Trent University Visual Arts Student to assist the funding of materials for their final degree show to the extent of £500.
Every year, the University will advertise the opportunity for a third year to apply for a bursary. The recipient will be required to give a short presentation of their work The Arts Society Nottingham Committee in May – starting in May 2019. In return, there will be an opportunity for The Arts Society members to visit the final degree show.
In 2018, Lucy Bentley was offered the bursary. Lucy's research is focussed on the methods and the principles of the Arts and Craft movement and in particular, the arsenical dyeing and printing of William Morris.
In 2019, there were two bursaries awarded. The first was to Ally Powell, a ceramacist who is developing ceramic lighting pieces for her final project and the second is Alice Peake, who is creating a range of heritage style textiles and furnishing accessories.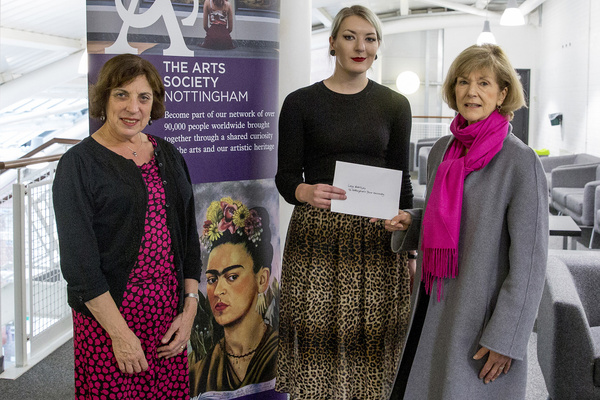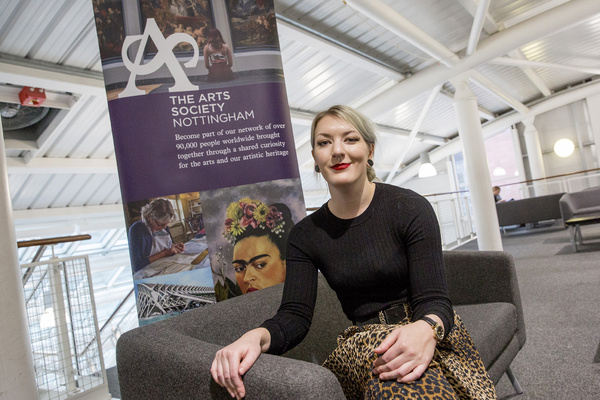 Young Arts 2018-2019 Report
In 2018, the Committee decided to institute a bursary at Nottingham Trent University and on 6th June 2019 The Arts Society Nottingham celebrated their first Young Arts sponsorship.
It was designed to assist a third year student towards the cost of their final degree show at the Nottingham Trent University Decorative Arts Department. Interviews were undertaken last October (2018) and Lucy Bentley emerged as the preferred candidate with an impressive presentation on the designs and dyes used by William Morris in wallpapers and fabrics. The dyes that he used were often poisonous but despite this, the subject matter influenced Lucy sufficiently and she went on to investigate "witchcraft" plants and develop her own designs which could be applied today.
The evening of the display provided an opportunity for the Committee and their guests to examine both Lucy's and other students fascinating shows across a broad spectrum of media. The Committee and University staff were delighted to have the evening brightened by the presence of Denise Topolski, our visitor from the Headquarters of The Arts Society, Guildford Street, London.
Our objective is to support the young setting out into a career in art and make closer links with Nottingham Trent University for our mutual benefit.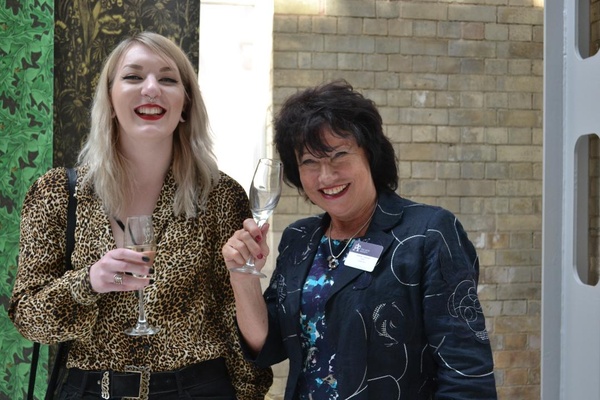 Cheers!! Lucy and Denise Topolski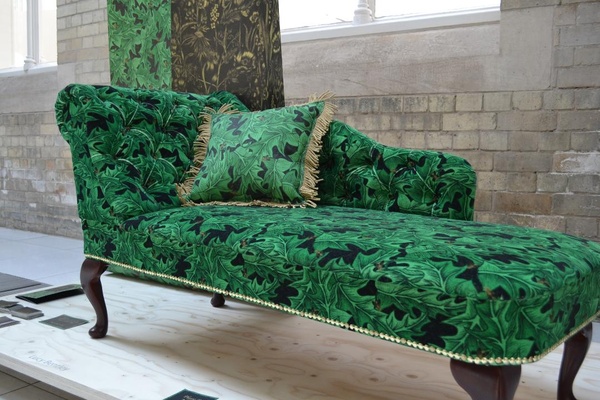 "Witchcraft Designs" by Lucy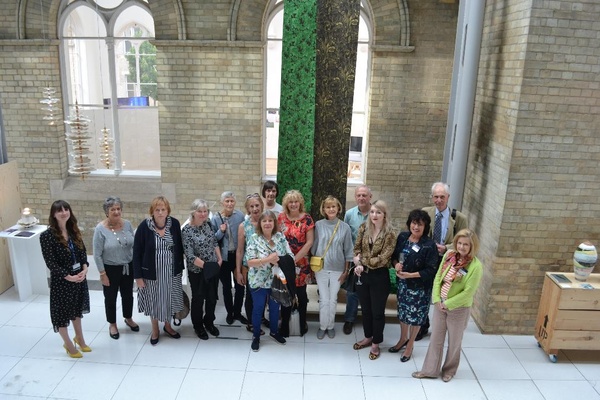 Nottingham Arts Committee and guests
All Photos by Maxine Spry NTU
UPDATE:
In an update to the story above, Lucy has been selected to exhibit at the New Talent area of the Surface Design show in London in February 2020 and has received £5,000 funding from the Hive at NTU to help her with setting up her wallpaper and fabrics business.
Two Young Arts Bursaries 2019-20
Following the positive experience of offering a £500 bursary to an Nottingham Trent University Decorative Arts graduate last year, it was decided to offer two bursaries of £500 each in the current year to students on the final year of the Decorative Arts degree in the Arts faculty at NTU this year. The aim is to provide financial assistance to selected students with the material costs of their final year projects. These form part of the annual summer exhibition at NTU which arts society members are able to view if they are interested in seeing the output of Arts Faculty students at the end of their degrees.
There was considerable interest in the bursaries this year and two candidates were finally selected from a short list after an interesting afternoon of presentations from Decorative Arts students which were attended by the Chair and Young Arts Representative on the TASN Committee. This year's bursary students are Ally Powell, a ceramicist who is developing ceramic lighting pieces for her final project and Alice Peake who is creating a range of heritage style textiles and furnishing accessories, a similar project to last year's recipient of the TASN bursar, Lucy Bentley, who after obtaining a first class degree is now in the process of setting up her own small business.
Providing these bursaries is intended to be a means of offering tangible support to students planning careers in a range of arts related roles and it is hoped these will form the basis of further developing the relationship between TASN and the NTU Arts Faculty.