Co-ordinator : Lynette Harris
Young Arts now has a close connection with Nottingham Trent University which has developed over the past few years, The objectives of our society include the promotion and advancement of aesthetic education and the cultivation, appreciation and study of the decorative and fine arts.
Providing the bursaries for final year students is intended to be a means of offering tangible support to students planning careers in a range of arts related roles and it is hoped these will form the basis of further deve;oping the relationship between TASN and the NTU Arts Faculty. The process has now begun of offering three bursaries for the academic year 2022/23 although this year these will be available to applicants across the Arts Faculty as the Decorative Arts Degree is no longer offered by NTU. Due to the wider range of courses that will be now involved a set of criteriafor applicants has been agreed with NTU to so that the key objective of providing assistance to graduates seeking to work in different areas of the visual arts is maintained.
---
Nottingham Trent University Bursary
In 2018, we embarked on a new Young Arts initiative. We set up a bursary for a third year Nottingham Trent University Visual Arts Student to assist the funding of materials for their final degree show to the extent of £500. In 2019 we offered two bursaries each for £500.
Two TASN £500 bursaries for 2021/2022 were again been offered to final year students on the Decorative Arts degree course in the Arts Faculty at Nottingham Trent University. The successful applicants were Maisie Sawyer and Kate Wilson. A report has been received from Nottingham Trent University (NTU). It sets out the impact of the TASN bursaries awarded for the academic year 201/22 to two final year students onthe final year cohort of the Decorative Arts Degree. The bursaries of £500 each were provided to assist with final year project costs and the report provides details of their value to the two bursary winners, Kate Wilson and Maisie Sawyer, who both graduated with excellent first class degrees this summer. To see the report and the way in which the bursaries were used,, click here, NTU Impact Report 2022.
Maisie is working with porcelain to produce decorative but functional ceramic lighting inspired by fungi and mushrooms for her end of year project. As lighting and ceramics are both processes that require expensive materials, Maisie will be using her bursary money to help with these costs.
Kate Wilson is a mature student who is an artist and designer based in Nottingham. She specialises in innovative textile weaves and is intending to produce a series of framed textile forms for her final year project for exhibition in interior public places, particularly those in a health care environment. Kate will be using her bursary money to purchase a small hand loom which would enable her to work on her weave designs at home in the evenings.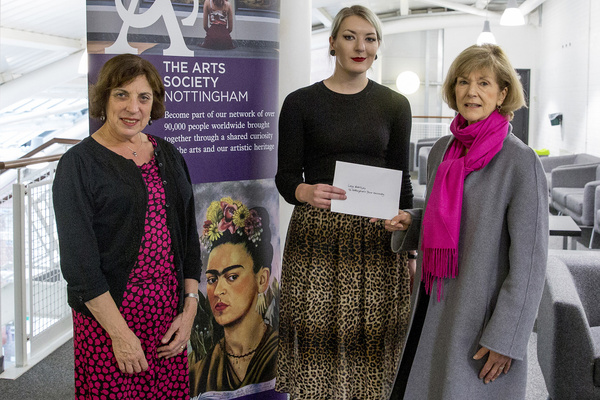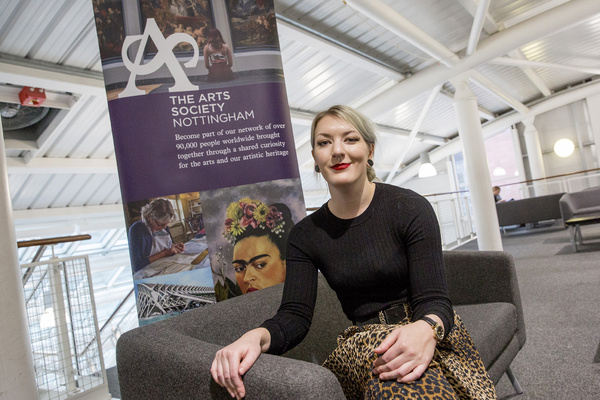 Young Arts 2018-2019 Report
In 2018, the Committee decided to institute a bursary at Nottingham Trent University and on 6th June 2019 The Arts Society Nottingham celebrated their first Young Arts sponsorship.
It was designed to assist a third year student towards the cost of their final degree show at the Nottingham Trent University Decorative Arts Department. Interviews were undertaken last October (2018) and Lucy Bentley emerged as the preferred candidate with an impressive presentation on the designs and dyes used by William Morris in wallpapers and fabrics. The dyes that he used were often poisonous but despite this, the subject matter influenced Lucy sufficiently and she went on to investigate "witchcraft" plants and develop her own designs which could be applied today.
The evening of the display provided an opportunity for the Committee and their guests to examine both Lucy's and other students fascinating shows across a broad spectrum of media. The Committee and University staff were delighted to have the evening brightened by the presence of Denise Topolski, our visitor from the Headquarters of The Arts Society, Guildford Street, London.
Our objective is to support the young setting out into a career in art and make closer links with Nottingham Trent University for our mutual benefit.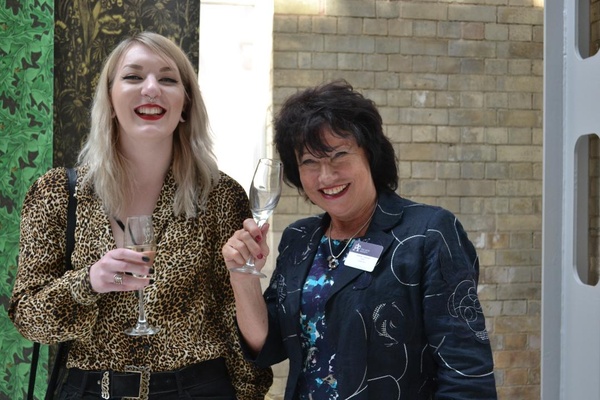 Cheers!! Lucy and Denise Topolski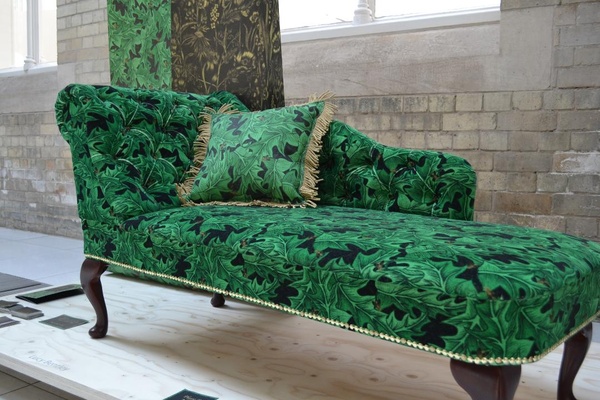 "Witchcraft Designs" by Lucy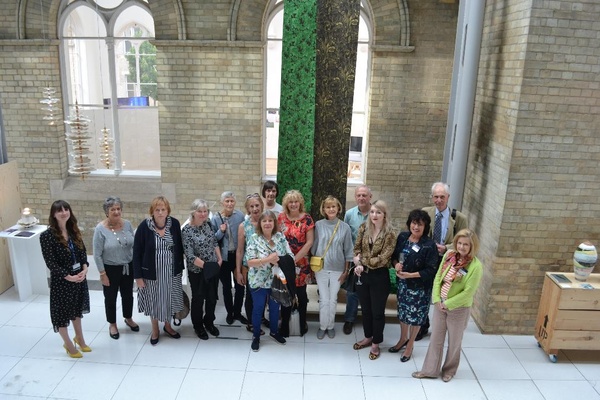 Nottingham Arts Committee and guests
All Photos by Maxine Spry NTU
UPDATE:
In an update to the story above, Lucy has been selected to exhibit at the New Talent area of the Surface Design show in London in February 2020 and has received £5,000 funding from the Hive at NTU to help her with setting up her wallpaper and fabrics business.
Two Young Arts Bursaries 2019 - 2021
In 2019 there were 2 bursaries awarded. The first was to Ally Powell, a ceramacist who was developing ceramic lighting pieces for her final project, and the second to Alice Peake, who was creating a range of heritage style textiles and furnishing accessories, Because of Covid-19 NTU were not able to hold an end of year exhibition of the work of their students and it was difficult for us to follow their progress. NTU provided a report on the use of the bursaries in 2021 but it was not possible for them to hold the usual end of degree exhibition at which their work would have been shown.